The Daniel Carrolton / Margaret Hart Memorial Marker Project
Daniel Carrolton and Margaret Hart Carrolton were the maternal grandparents of Elizabeth Wilson Steinmetz and the Carrolton family is one of the best documented families on that family tree branch: they are found on nearly every surviving US Federal Census from 1860 to 1920. Daniel Carlton was born in Ireland about 1825. Margaret Hart was born in Ireland May 1828. It's not known if they met in the USA or Ireland but both left Ireland at the height of the Great Famine to look for a better life in Newark, NJ and were married there November 7, 1854. Around 1861 Daniel changed the family name to Carrolton.

Daniel worked hard in a Newark hat factory while Margaret cared for the children. Half of their 6 children died before age 10. Without their struggle many of us would not exist today. But they died poor - Daniel and Margaret spent at least the last 9-10 years of their lives in the Little Sisters of the Poor Home for the Aged on South 8th and Warren Street. After documenting their lives and those of their children I was thrilled to discover they (and several other family members) were buried in nearby Holy Sepulchre Cemetery in East Orange, NJ.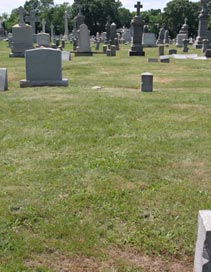 But when I went there in August 2006 to photograph the graves of the family I was distressed to find no grave stone for anyone - not even a marker to indicate where they were laid to rest. After pacing out the rough location of Daniel and Margaret's grave, the groundskeeper told me it was not uncommon for these families to be buried without any marker – all of the family's savings went to ensure burial on holy ground while it was hoped a later generation could eventually buy a stone.

So that's what I'd like to do. At the very least I hope to raise the funds to have a flat plaque placed at the grave site that includes Daniel and Margaret's names and death dates so they will be remembered and can be found by later generations. Perhaps when all is done it would be nice to have a dedication ceremony at the cemetery as well.

If you'd like to donate any amount toward the goal you can use the secure link at right to pay by credit card (or contact me to send a check). If we are sufficiently above the goal amount we may even be able to 'upgrade' the flat plaque to a raised stone marker.
More Links
The goal amount includes a flush marker installed with Daniel and Margaret's names and dates of death for $450 and the cemetery's perpetuation fee of $200.
Carrolton Memorial Marker
Project Progress


Goal $650

As of
5-18-2007
$50.00
And if you'd like to have your name included in a list of project donors and I'll post it here otherwise I'll assume all donors wish to remain anonymous. Thank you all!